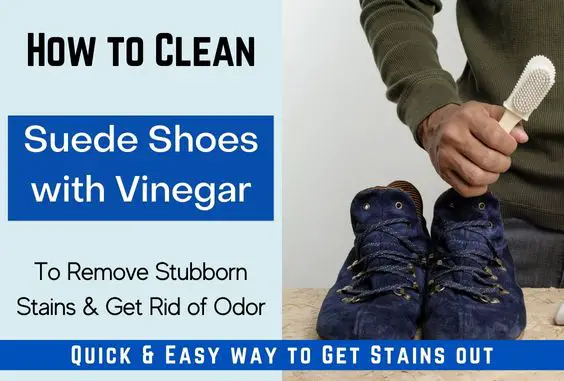 Whether you are a fashionista or fashion master, or whether you just buy shoes that suit your preferences, you are bound to end up with shoes that are made of suede, even at least partly.
And this material too will need some TLC. If you cannot get your hands on specific suede cleaners, or if the stains are just too stubborn, never fear! You can apparently use vinegar!
Will Vinegar Safely Clean Your Suede Shoes
Yes! Household white vinegar can be used to safely clean your white, black, nude, and colored suede shoes.
Vinegar does not have bleaching properties and when diluted well, it is not expected to damage suede material. When diluted it also gets rid of dirt and stains that are not deep set but when used alone and correctly, it can also get rid of stubborn stains.
Best Type of Vinegar to Clean Suede Shoes
Regardless of the color of your suede shoes, you should only use plain distilled white vinegar to clean them.
Distilled white vinegar is used for cleaning suede, clothes, and other materials because it does not contain coloring agents. It is also quite watered down (most contain about 5% acetic acid and 95% water). This makes it effective at removing dirt but not strong enough to strip color from surfaces of different materials.
Related Articles –
Ways How to Remove Stains from Suede Shoes – Safe & Easy

Using Vinegar to Clean Smelly Shoes -What You Need to Know

How To Spot Clean Suede Shoes With White Vinegar
Whether your shoes are white, black, or colored, here is what you can do if you are cleaning them with white vinegar:
First, use a suede brush, a soft-bristled brush, or a clean cloth to remove surface dirt from the shoes.
Brush first with and then against the grain of the suede material. This will help to dislodge any dirt and/or particles and fluff up the fibers of the material.
If you still have stains after brushing, and the stains are dry, grab a pencil eraser. Rub the pencil eraser gently over the stains in circular motions.
If the eraser does not get rid of the stain completely, or if the stain is damp, then it is time to grab your vinegar.
Pour a little vinegar onto a clean, white cloth and rub it into the stain. You want to dampen the stained area of the stain, not saturate it. Rubbing the stain should loosen the dirt and marks.
Wipe away excess moisture and let the shoes completely dry.
Dry brush the shoes again to get rid of any residues and your suede shoes should be good as new!
Related Article: Wet Suede Shoes – Tips On How To Safely Fix & Dry

Video of How to Clean Suede Boots
How To Hand Clean Your Whole Suede Shoe With Vinegar
If you need to clean your entire shoes and not just spot clean stains, here is what you can do:
First, use a suede brush, a soft-bristled brush, or a clean cloth to remove surface dirt from the shoes.
Brush first with and then against the grain of the suede material. This will help to dislodge any dirt and/or particles and fluff up the fibers of the material.
If you have stains, then tackle them with a pencil eraser as mentioned above.
Then, mix 1 cup of vinegar and 1 cup of water.
Dip a clean, white cloth into the mixture and squeeze out excess moisture.
Use the damp cloth to gently rub and wipe all around your shoes. Do not saturate the material.
Then, let your shoes completely air dry.
When dry, use your suede brush to brush around the shoes, resetting the grain of the material.
Related Article – 9 Best Ways to Clean Suede Shoes Without a Suede Cleaner

Frequently Asked Questions (FAQs)
Can you use baking soda and vinegar to clean suede shoes?
You can use either baking soda or vinegar to clean suede shoes, but you should not use them together.
Baking soda is a great alternative for cleaning your suede shoes if you do not want to get them wet. It works in the same way as vinegar by breaking up dirt, sweat, and grime. However, it also absorbs moisture.
Vinegar, on the other hand, will add some moisture while breaking up all the nasties.
Using these two, together, might be too strong for the suede material so it is best to stick to one or the other.
Related Article – Why Shoes Smell After Getting Wet & What to Do to Fix

How long should you leave vinegar on suede shoes?
For mild stains, vinegar will only need to be left on for as long as it will take you to scrub the stains. However, for more stubborn stains, you may need to let the vinegar sit on your shoes for a few minutes.
This will vary depending on how bad the stains are. However, to avoid damaging the material, you should not saturate your shoes with undiluted vinegar and leave them sitting.
If you must leave the vinegar on for a little while, only dampen the area of the stain and check on your shoes constantly. Ensure that you are scrubbing the stains so that the shoes will not dry with the stain still there.
Related Article – Tea Bags For Smelly Shoes & Feet – Easy Home Remedy

Does vinegar revive suede shoes?
Vinegar can clean your shoes and make them look more vibrant, but how well it works will depend on the overall condition of your shoes in the first place.
Vinegar will get rid of stains, dirt, and debris that make the material dull and stiff. However, if your shoes are damaged or the material itself has been physically compromised, vinegar will not be able to fix that.
Related Article – Spraying Lysol to Clean Shoes & Kill Fungi: Does it Work

Can you soak suede shoes in vinegar?
You should not soak suede shoes in vinegar. In fact, you should not be soaking your suede shoes at all.
Too much moisture can ruin the suede material by making it stiff when it dries off. Adding an active ingredient like vinegar to that will only make it worse.
Related Article – How to Clean Fabric, Canvas or Mesh Shoes: White & Colored

Can vinegar ruin suede shoes?
If you use vinegar incorrectly, you may damage your suede shoes.
For instance, you can damage your shoes if you:
Use the wrong kind of vinegar (not white distilled vinegar)
Use vinegar that is too strong (more than 5-6% concentrated)
Soak your shoes (in undiluted vinegar or at all)
Saturate your shoes with too much vinegar when spot-cleaning stains
Always check your shoes' cleaning instructions to see what you can and cannot do to the material.
Sources:
1-What is the Best Vinegar for Cleaning and Why?

2-How to Clean Suede in 4 Easy Steps | PhoneSoap

3-How to Clean Suede Shoes to Keep Them Looking Like New

4-How to Clean Suede Shoes Without Wrecking Their Velvety Texture

5-How to clean and protect suede — and all the tools you need to do it

6-How to clean suede shoes: 5 easy steps

Recent Posts