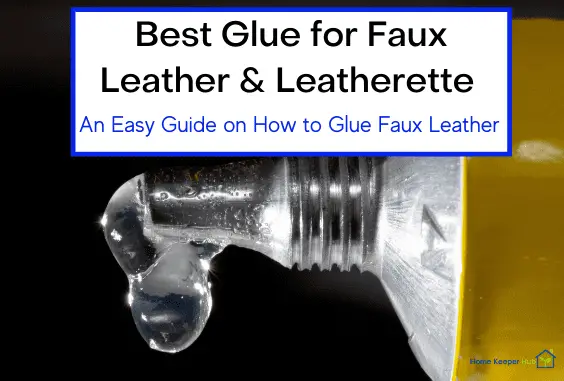 Faux leather also know as leatherette or fake leather is a synthetic material made to look and feel like real leather

. Now real leather is made out of animal hide whilst faux leather are usually made of a natural fiber such as cotton which is then covered with either polyurethane or PVC.
Now because of their physical and chemical differences it is important that you know that you shouldn't use the same type of glue that work with natural leather to glue leatherette or any other type of faux leather. This is because the polyurethane or PVC coating makes faux leather non porous unlike real leather which is a porous material.
So in this article I am gonna go through some of the best glues that you can use to glue leatherette and most other types of faux leather.
The Best Glue For Faux Leather & Leatherette are:
E6000 Multi-Purpose Glue (A very strong & flexible glue that works effectively with faux leather)
Loctite Vinyl Fabric Plastic Adhesive
1- E6000 Multi-Purpose Glue
The E6000 is ideal for gluing leatherette and other types of faux leather since it can work effectively with both the natural fabric and the synthetic material that faux leather is made out of.
It can be used to glue faux leather onto faux leather or it can also be used to glue other materials onto faux leather.
Pros of Using E6000
1- Strong & Flexible Glue
The E6000 creates extremely strong and flexible bonds which is great for situations where the faux leather or leatherette moves around a lot. Citation.

You see flexibility is important when gluing fabric like materials this because it allows the fabric to bend and flex without the glue giving up and coming off.
2- Washer & Dryer Safe
E6000 is completely waterproof and extremely durable which allows you to wash it in both your washer and dryer. Its durability also makes it suitable to be used outside since it can handle rain and snow.
3- Multi-Purpose
The E6000 is one of the most versatile glues that I have ever used since it can work on a wide variety of materials such as metal, glass, vinyl, rubber and most fabrics.
The E6000 is also available in different colors such as clear, white and black which allows it to work with various colored leatherette or faux leather.
4- Easy to Use
The E6000 is super easy to apply and use.
First ensure that the area that you are about glue is completely clean from any dirt or residue
Next apply a thin coat of the E6000 on the surface that you are about to glue.
Finally use a method to clamp and hold the two surfaces together for around 45 minutes
Cons of E6000
Now the main issue with the E6000 is that it will take some time to cure and set, depending on the job it can set around 45 minutes but it takes 24 hours to cure completely.
Also for certain big jobs I recommend using some type of method to clamp and hold the materials that are being glued. This allows the glue to set and cure properly which allows it to last for a very long time.
Where to Get E6000 Multi-Purpose Glue
You can get the E6000 at a lot of retailers but Amazon usually has it stock, you can click here to see the current price for a tube of the clear E6000 here.

2- Loctite Vinyl Fabric Plastic Adhesive
The Loctite Vinyl Fabric Adhesive is another great glue that can work effectively with most types of Leatherette and Faux Leather.
The main advantage that Loctite Fabric Adhesive has over E6000 is that it sets a bit more faster within 20-30 minutes unlike the E6000 which takes roughly 45 minutes to an hour. Citation.

The drawback with the Loctite is that it isn't as durable as E6000 and can't handle heavy duty jobs. This is why the Loctite is best used if you are looking to quickly glue a small area. Citation.
Where to Get Loctite Fabric Glue
You can get the Loctite Vinyl Fabric Glue on Amazon, you can click here to see the current price for a tube there.