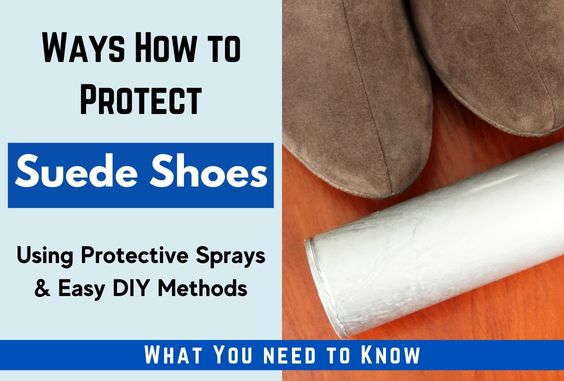 When you own suede shoes you not only need to know how to clean them but also how to protect them from damage and everyday wear and tear. There are several things that you can do. We will cover these methods from effortless to effortful, including DIYs. 
Ways How to Protect Suede Shoes
1- Prevention
The easiest method to prevent stains on your suede shoes is to avoid wearing them on days when you are likely to come into contact with damp weather conditions like rain and snow. 
Even if suede has a seasonal aesthetic and pairs beautifully with autumn and winter clothing, if you are worried about protecting them from the elements, you might need to avoid them altogether. However, if you are sure you can prevent from getting wet and mud-splattered, then rock them and do you!
Related Articles –
Wet Suede Shoes – Tips On How To Safely Fix & Dry

9 Best Ways to Clean Suede Shoes Without a Suede Cleaner

2- Apply Protective Sprays
The easiest way to protect your suede shoes is to try and prevent everyday environmental damage as much as you can and to cover the upper layer in a suede protectant spray. 
As soon as you purchase a new pair of suede shoes, spray them with a waterproof or weatherproof spray. You can also reapply the spray after each time that you clean the shoes. This will protect them from things like rain, snow, puddles, mud splashes and other environmental factors.  
Remember that your shoes should be clean before applying the spray. Also, remember to patch-test a small area of the shoe first before spraying the whole thing.
The spray that I recommend is the Nikwax Nubuck, it is one of the most widely used brand, click here to see the price of a bottle on Amazon.

Video: How To Waterproof Suede Boots
3- Use Shoe Trees
Suede shoes do not only need to be protected from stains and water, but they also need to be protected from warping and losing shape. A great way to do this is by using shoe trees. 
Put shoe trees snugly inside your shoes as soon as you take them off to help keep their form and stop the suede from wrinkling. Cedar-based wooden shoe trees will also aid in removing sweat odor and soaking up any remaining moisture in the suede.
I recommend the Spier & Mackay Cedar Wood Treet its very durable and easy to use click here to see the price.

How to Store Suede Shoes
Store your suede shoes in a cool, dry place. Keep out of direct sunlight and away from moisture. 
Allow your suede shoes to get some air. Unlike some shoes, suede shoes need some exposure to air. This does mean you need to expose them to the elements. However, do not store them in plastic or tight wraps.  
A great place to store them is in an airy linen closet or general closet. When storing them in a closet, place them in a roomy cotton pillowcase. The cotton pillowcase will promote air circulation and prevent them from accumulating dust. 
Ensure that your shoes are cleaned well before storing them.
Related Article: Ways How to Remove Stains from Suede Shoes – Safe & Easy

DIY Home Remedies To Protect Suede Shoes
If you cannot get your hands on a suede protector, there are a few things in your pantry or from your cabinet that you can use. 
4- Apply Wax
Wax is one of the best, natural ways to waterproof your suede shoes. 
What you will need:
Beeswax or otter wax
Old newspaper
Wax smoothing tool
A suede brush
A heating hun or blow dryer (optional)
Here is what to do:
If your shoes have laces, remove them. 
For the boots to maintain their form, stuff them with newspaper.
Clean the boots of any dirt and debris with a suede brush.
Then start by gently working the wax bar into the boots by rubbing it back and forth. This will produce friction and assist the wax soften so that it can be worked into the suede.
After applying wax to a small area of suede, use your fingers to smooth it out. You may also use a heat gun or blow dryer to aid in this process.
Make sure that any seams have been completely covered with special care.
Add another coat of wax for a glossy appearance.
Use the wax smoothing tool to flatten the wax properly and remove any bumps. 
Video: How to Wax Suede (Very Detailed)
5- Use Petroleum Jelly Or Vaseline
Using petroleum jelly or vaseline is a temporary way you can waterproof your suede shoes. 
To remain effective, it will need to be constantly reapplied. However, it is a good alternative if you have limited options and time. 
What you will need:
Petroleum Jelly or Vaseline
A clean cloth or sponge
A suede brush
Warm water
What to do:
If your shoes have laces, remove them. 
Use your suede brush to remove any dirt or dust particles from your shoes. Make sure the shoes are cleaned well. 
Dampen your cloth or sponge slightly with some warm water. Do not completely soak it. 
Apply petroleum jelly in a lump on the suede boots. Start with small lumps.
Till it is completely absorbed, gently massage the jelly into the shoe.
Continue until each shoe is completely coated.
Let it absorb and then gently brush the suede fibers into place. 
Related Article: Cleaning Suede Shoes with Vinegar – What You Need to Know

6- Olive Oil
Using olive oil is another temporary but effective way to waterproof suede shoes. 
What you will need:
Olive Oil
Tow pieces of clean cloth
A soft-bristled brush or a suede brush
Warm water
What to do:
Use the brush or one of the cloths to dip into the olive oil.
Rub it into the suede boot; keep in mind that olive oil needs a thick layer to work well.
After covering the whole boot, let it air dry for 30 minutes.
Use the other clean cloth and dampen it with warm water.
To get rid of any extra olive oil, gently wipe the boot.
How To Protect Suede Shoes From Scuffing
The best way to protect your suede shoes from scuffing is by using a protective spray. You can use a general suede protectant or a water-repellant spray for suede. 
Either one will help to protect your shoes from moisture, dust, and dirt that can cause scuffing. 
Things To Keep In Mind When Cleaning Suede Shoes
Always test patch a small, inconspicuous area of your shoes first before trying any of our recommendations on your whole shoe. 
Pay attention to your shoes' cleaning and care instructions if available. 
Read labels and try to avoid ingredients that can potentially damage your suede shoes. 
Best Suede Protectors for Suede Shoes
1- Nikwax Nubuck & Suede Protector Spray
The Nikwax Spray is one of the best suede protector spray on the market for suede shoes which is why it is one of the most popular and widely sold brand
You can Click here to check out the Nikwax Nubuck & Suede on Amazon. 

2- Moneysworth & Best Suede & Nubuck Color Protector Water Repellent Spray
All suede and unbuckle items are given the best possible defense against moisture, stains, and the elements thanks to our Suede and Nubuck Protector. Ideal for use on all Nubuck and Suede clothing, footwear, purses, and accessories. Stain and water resistance will enhance with regular usage.
Click here to view and purchase the Moneysworth & Best Suede & Nubuck Color Protector Water Repellent Spray at Walmart. 
3- KIWI Suede & Nubuck Waterproofer Spray
This waterproof spray protects shoes from water and stains. It is suitable for all types and colors of suede and nubuck leather. Make sure that your shoe is cleaned before applying the spray. 
Click here to view and purchase the KIWI Suede & Nubuck Waterproofer Spray at Walmart. 
Sources:
How to Care for Suede Shoes | The Cheaney Journal

3 Ways to Protect Suede Boots – wikiHow 
How To Waterproof Suede Boots (Naturally)

Simple Ways to Keep Suede Shoes from Scuffing: 11 Steps